Where to see Big Cats in East Africa?
Big cats are among the most sought for animals by safari goers. Africa is home to a number of them including; lions, leopards, cheetahs, servals, genets, civets and so on. Many people see it like a dream come true as they get face to face with these now endangered animals. On an African Safari, some feel goose bumps when they hear the roar of a lion and so forth. Hence the question, where to see big cats in East Africa?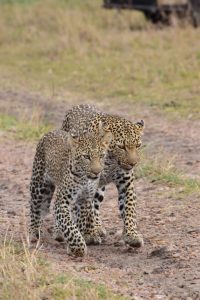 Before a wildlife lover decides on where to go for safari, they will look into which country to visit, parks and the distribution their animals of interest; in this case big cats. What makes safaris even more addictive is the fact that you never know which animal you encounter next. Its like playing the game of hide and seek between humans and these creatures. To give an answer to the question, where to see big cats in East Africa, we have compiled a list of places where these big cats can be spotted without much difficulty and these include;
Queen Elizabeth National Park – Uganda.
It is not only home to 618 bird species but also 95 mammal species. Among these are the big cats including the lions and leopards commonly spotted in the Kasenyi sector. This park is a biosphere reserve and has a fair distribution of forests, wetlands, water and savannah. On top of game drives, boat safaris on the Kazinga Channel make the safari complete since it is possible to spot serval bird species and big game including lions and leopards drinking in the mid day sun. Ishasha, the southern sector of this park is becoming more famous day by day due to its tree climbing lions. Just ask your guide to do a game drive here in the mid day sun, you will see lions relaxing  high in fig trees, a habit that is not so common of lions.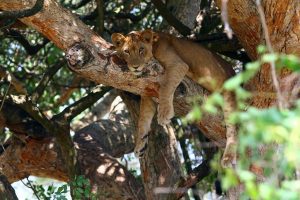 Masai Mara National Reserve – Kenya
The Masai Mara; mostly famous for the migration of the wildebeest is also one of the few places where one can see big cats with ease. The reserve has healthy population of lions, leopards and is arguably the best place to see cheetahs. It is difficult to do a 3 day visit to the Mara and don't spot a cheetah. This is why the reserve is flooded with many wildlife photographers.
Ngorongoro Crater – Tanzania
If you ever get chance to visit the Ngorongoro Conservation Area in Tanzania, make sure you do game drive in the Ngorongoro crater. Here you will see several prides of lions and hyenas with ease. If lucky, you may also spot the elusive leopard and cheetah.
Serengeti National Park – Tanzania
The world's favorite is not only famous for the migration of the wildebeest, but also has a healthy population of big cats. With a lion population of about 3000 individuals, the Serengeti has the highest number of lions in Africa. The flat landscape makes it easy to spot cheetahs and leopards. This is an expensive destination but if you are a big cat fun and budget allows, make it a point to visit this Masai land.
Kidepo Valley National Park – Uganda
It has been Africa's 3rd best park for more than three consecutive years mainly because of its scenery. Kidepo Valley National Park has a big and healthy population of lions, hyenas, cheetahs and leopards. It is the best park to see lions and cheetahs in Uganda. It is over 10 hrs drive away from the capital and the easiest way to access the park is by a scheduled flight. The park is free from tourist congestion. Imagine being the only tourists around a lion pride or at a leopard. These private experiences put this isolated park among some of the best places where to see big cats in East Africa.