Boat safaris in Uganda
Uganda is one of the few countries in Africa that offer this incredible experience while on safari. Imagine watching lions on a game drive and then elephants as they come to drink in the mid day sun. Boat safaris in Uganda are among the must do things for safari enthusiasts. A boat cruise safari is a leisure adventure on the fresh water bodies in this incredible part of the world. These safaris give tourists opportunities to enjoy picturesque views of the pearl of Africa alongside its wildlife.  The boat rides on Uganda's fresh waters bring tourists close to more species of animals and birds that live and feed on the water.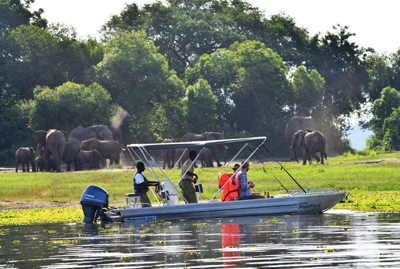 Top places for boat cruise safaris in Uganda
There are a number of places in Uganda to do boat cruise safaris. They are National Parks or towns or villages as below;
 Lake Mburo National park
About 4 hours' drive west of Kampala lies Lake Mburo National Park. It is Uganda's smallest savanna park. Besides the game drives, safari walks, bike safaris, horseback safaris this park also offers boat safaris. The park encloses Lake Mburo, a water body after which it was named. On this boat trip, tourists are able to see crocodiles, hippos, buffaloes, antelopes, zebras, giraffes. Lake Mburo is also a paradise for birders with common species including; African fish eagles, kingfishers, African darter, herons, jacanas to mention a few. It is for this reason that a typical trip to this beautiful park will always include a boat trip on Lake Mburo.
Lake Bunyonyi
Bunyonyi is Uganda's most beautiful and deepest lake. It is Africa's deepest lake after Tanganyika. It lies in the south western part of Uganda about 10 hours' drive from Kampala. Tourists tend to do swimming since it is bilharzia free. They also do canoeing on dug out canoes, boat cruises to the islands.
The lake harbors 29 islands among which some are legendary. . Some of the notable islands include Punishment island. This is where Bakiga pregnant unmarried girls were brought. The intention was that they die as they try to swim back to the main land. Poor men who were not stable enough to pay bride price, would come and save some of the girls and marry them.
The name Bunyonyi means little birds. The lake hosts a number of bird species for instance; the African fish eagle, grey crowned cranes, weavers, starlings and so on. Lake Bunyonyi being in close proximity to Bwindi Impenetrable and Mgahinga National parks,  it is a relaxation place for visitors from gorilla treks. Hence a perfect place to do boat safaris in Uganda.
Murchison falls national park
Murchison Fall National Park is the biggest park in Uganda. It lies in the north western part of the country. What drives tourists to this destination is the Murchison Falls. This is where the River Nile forces its self into a narrow gorge forming a thunderous roar. Murchison is the most powerful falls in the world. In addition to that, the park protects a high concentration of wildlife species covering an area of about 3892km2 spreading along the shores of Albert and Nile River up to Karuma Falls.  It is home to 4 of the African big5 namely; leopard, lion, buffalo and elephant.
The Murchison falls National Park offers two cruise experience to travelers. The first takes you to the bottom and upstream of the falls, this offers exciting adventures and amazing experience. The other takes you downstream to the Nile Delta giving you chance to spot several mammal and bird species including the shoebill stalk. The boat cruise at the Nile River takes about 4-5 hours and it can be done either in the morning or in the evening. Fishing boat safaris are also done on this part of the Nile. Sport fishermen have recorded some of the heaviest fish with some Nile perch weighing over 120kg. Murchison Falls National Park is worth considering if looking for boat safaris in Uganda.
Kazinga Channel in Queen Elizabeth national park
Queen Elizabeth national park is the most visited amongst Uganda parks with a wide diversity of animal species. This park never disappoints when it comes to safaris. It lies in the south western part of Uganda along the equator on the boarder with Congo. This park has various water bodies including, Lake George, Kazinga Channel, Lake Edward, Lake Katwe and so on.
The boat trip on the Kazinga Channel has always been a highlight for people visiting this park. It  gives you chance to see crocodiles, elephants, lions, monitor lizards, buffaloes, antelopes and so on. The Kazinga channel is a water stream joining lake Edward George. It has the highest concentration of hippos in the world.
This park is home to the most bird species in Uganda. Over 1000 bird species have been recorded and these include; gulls, fish eagles, skimmers, flamingos, darters, fin foots, crakes etc. Other boat trips take place on Lake George, Lake Edward and Lake Katunguru.
Jinja Boat cruise to the source of the Nile
Jinja is a city about 80 kms west of Kampala the capital of Uganda. It was once the most industrious town of the country, thanks to Lake Victoria and the River Nile. Its is in this part of Uganda where you can see the source of the longest river in the world. This is where the Nile River originates and embarks on its 90 days journey to the Mediterranean sea.
It took the British about 300 years traveling to Africa so as to find the source of the River Nile. Finally, it was discovered by Explorer John Speke on August-3rd -1858. It is for this reason that many people from around the globe visit this famous town of Jinja. The reason is to see the source of the River Nile. And it is best seen on a boat trip thus making it a must to for any one interested in boat safaris in Uganda.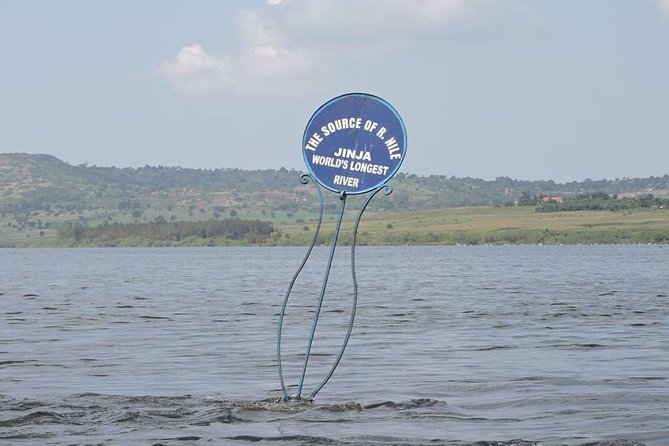 Cost of  boat cruise safaris in Uganda
The boat cruise safaris in Uganda in the above mentioned and non mentioned places range from USD 30 per person to any where around USD 500 per group. The level of luxury of the boat and number of hours needed matter. Prices can always go lower depending on ones bargaining power.