Luxury Accommodation  in Bwindi Impenetrable Forest
You will treat your self to a life time safari if you decide to stay at luxury accommodation in Bwindi impenetrable Forest. Imagine indulging your self in luxuries in the heart of an impenetrable forest. Below are some of the notable lodges and hotels in this home of mountain gorillas.
Mahogany Springs -Buhoma
Mahogany Springs is a luxurious lodge north of Bwindi Impenetrable National park in the Buhoma sector. You can either drive for 10 hours or fly to Kihihi for 90 minutes so as to access the lodge.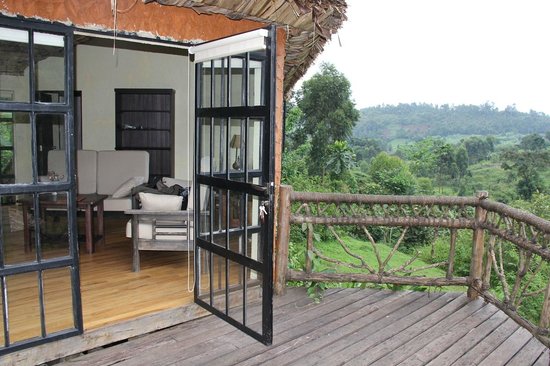 This lodge is a perfect base for your gorilla trekking adventure. On a lucky day, gorillas even visit the lodge.
The Superior Suites can be Twin, Double or triple. The suites are spacious with large double doors and beautiful windows. Each with its own private balcony with panoramic views of the nearby area. Mahogany spring also has a presidential suite with double or quadruple.
Bwindi clouds Lodge-Nkuringo
Clouds Bwindi Lodge is in Nkuringo, the southern part of Bwindi impenetrable forest National Park. It's just meters from the trailhead of Nkuringo gorilla family. The lodge has about 10clonial style roomy cottages made of volcanic stones
It services both local and international dishes.. It has a bar which operates 24/7.
Each cottage is ensuite with hot water, oversized towels and bathrobes.  For those who need other services like massage and beauty treatments, they are available at bwindi clouds lodge.
Activities possible at Clouds Bwindi Lodge include;
Guided Forest walks
bird watching
visiting the Batwa people
Ichumbi Gorilla Lodge – Rushaga
Ichumbi Gorilla Lodge is among the luxury accommodation in Bwindi Forest in the Rushaga sector. The word Ichumbi is resulting from Rufumbira language spoken by many in the area meaning a "cool calm home" which Ichumbi really is.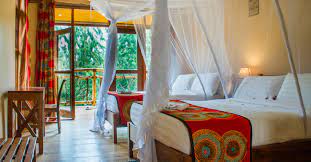 From the lodge, you need just 10 minutes walking to the Rushaga park area gate. While here one gets a chance to see forest canopies right from their room.
You can go bird watching and spot numerous species of birds. The hotel provides both hot and cold towel, hair driers & hair straighteners, the rooms can be accessed from the parking yard as well as the restaurant.
The honeymoon cottage is very private from other cottages. While here you will sleep to the sounds of the jungle and wakeup to birds singing just outside your cottage.
Chameleon Hill Lodge -Kisoro
The stunning Chameleon Hill Lodge is lies in Kisoro district in the Southwestern part of Uganda. It is  between the two gorilla parks including Mgahinga Gorilla park and Bwindi impenetrable forest national park.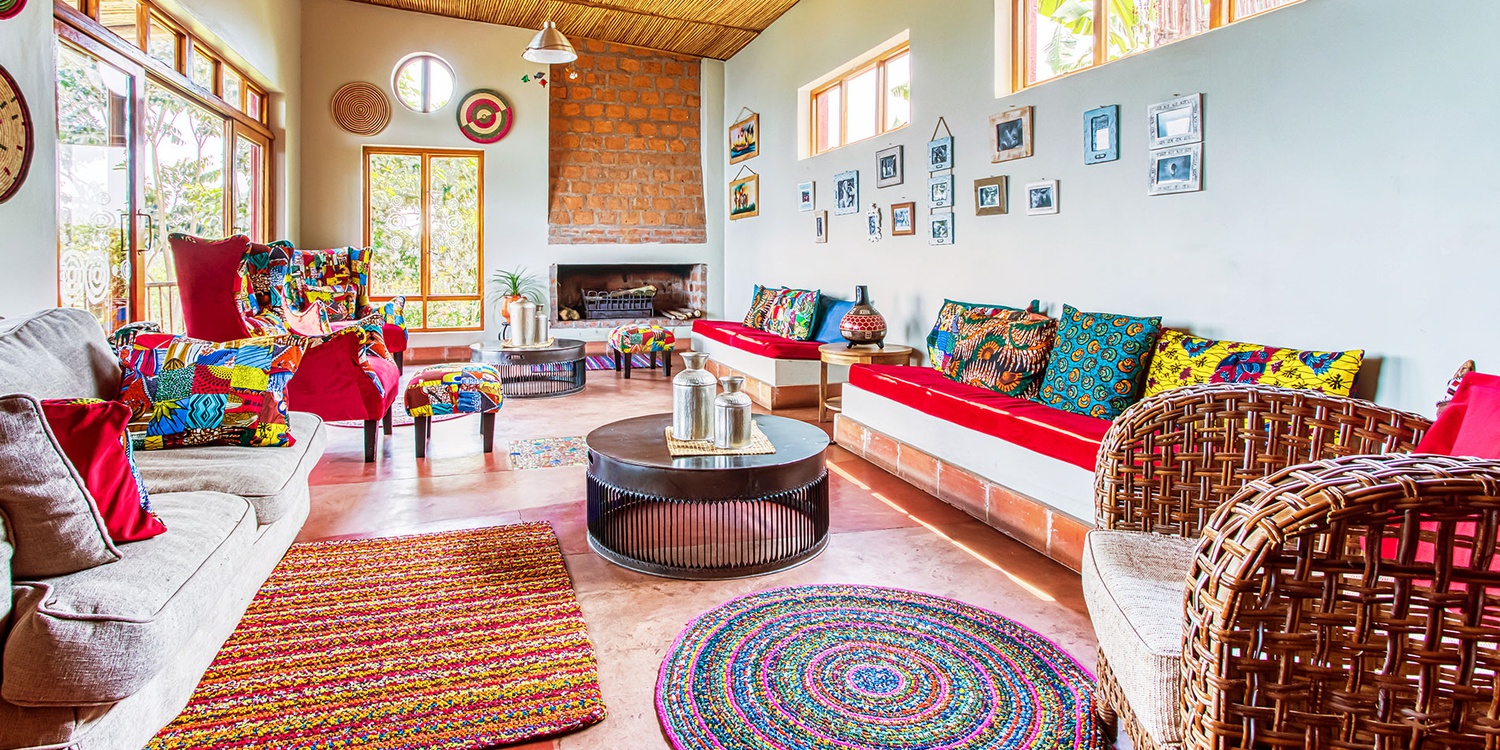 The lodge is near the shores of the superb Lake Mutanda. Chameleon Hill Lodge is one of the best tourist spots in the South Western part of Uganda with perfect remarkable views of the Virunga volcanoes and the stunning lake Mutanda.
The lodge is beautifully designed in multiple rainbow colors making it look like outstanding even from a far off. The lodge serves both local and international foods, with tea and coffee available all day. The bar operates 24/7 within the lodge providing both international hot and soft drinks with local beers. It has welcoming staff who good service upon your arrival, stay and departure.
Chameleon lodge also provides accommodation for driver guides just within the lodge at friendly prices. The place was named because of the very many chameleons that were found in the area.
This luxury accommodation in Bwindi contains ten chalets with five double rooms and five twins. It has two beds in twins rooms, One large bed in double rooms, Extra beds are also available on request for double rooms, each bed a mosquito net and all room have private showers and toilets.
You can access Chameleon Hill Lodge by road which is 10 hours drive away from Kampala or by air to Kisoro Airstrip
Gorilla Heights Lodge
Gorilla Heights Lodge is without doubt among the best luxury accommodation in Bwindi Impenetrable Forest. It sits in the highest point in Nkuringo sector of Bwindi Forest. While there, you view the Virunga Volcanoes. The restaurant prepares both local and international cuisines. The bar runs 24/7 and is a high end one.
Gorilla heights Lodge has 15 cottages of which some are standard, deluxe and family. Every room ha a private shower and bathroom. It as well has a swimming pool which is not so common in Bwindi Forest Lodges.
Activities possible at Gorilla Heights Lodge include;
Gorilla Trekking
Bird watching
community visits
Batwa cultural experience
Buhoma Lodge -Buhoma
Buhoma Lodge is surely one of the luxury accommodation in Bwindi Forest.  The lodge is just a few minutes walk from the gorilla trekking starting point.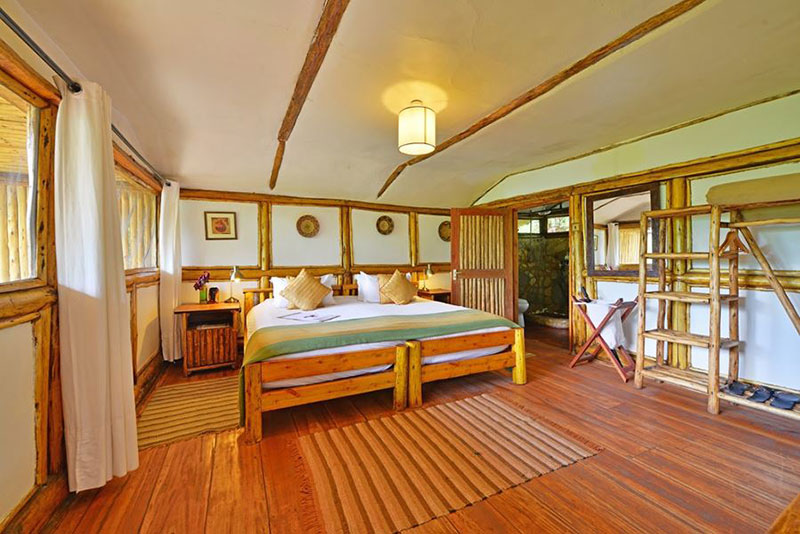 Buhoma Lodge has a complete bar and restaurant which services both local and international cuisines. It provides camp fires which reminds you that you are to sleep in the African wilderness.
One can access the lodge by a 10 hours drive or take a flight to the nearby Kihihi Airstrip.
Activities possible at Buhoma Lodge are;
Gorilla trekking
Bird watching
community visits
game drives in Ishasha sector of Queen Elizabeth
Nkuringo Bwindi Gorilla Lodge -Nkuringo
Nkuringo Bwindi Gorilla Lodge is strategically located accommodation in Bwindi Forest. It's just a 10 to 15 minutes' walk to the gorilla trekking briefing point and 300m from the Nkuringo sector's reception. It is also a drive of about 45m from the Rushaga sector briefing point.
The facility has two lounges and dining space all with beautiful views of the lodge's surroundings of both the Virunga Volcanoes and the Bwindi Forest. The Upstairs lounge has a fireplace, in-house craft shop and great views of the Virunga volcanoes.
The meals are based on full board including breakfast, lunch or packed lunch for those going for gorilla trekking and a 4-course dinner. Special diet requirements are also met at Nkuringo Bwindi Gorilla Lodge.
Four Gorillas Lodge -Rushaga
Four Gorillas Lodge is a luxury accommodation in Bwindi Impenetrable Forest National Park in the Rushaga sector.
So for those who want to sleep in the luxury style, Four gorillas lodge is a place to consider.
The Four Gorillas Lodge is indeed the closest to the headquarters of the Bwindi National Park, just a walk of only 10 minutes away from the Gorilla trekking and briefing center. It is surrounded by the dense forest and features upscale style. The available shuttle to and from Kisoro is free of charge.
The restaurant serves a full buffet breakfast, lunch and 4 course dinners both local and international. The bar operates full day and it has all sorts of drinks both soft and liquors. All the rooms are en-suite with a patio area that provides an internet connection within the forest canopy.
Ruhija Gorilla Safari Lodge -Ruhija 
Ruhija gorilla safari lodge is one of the luxury lodges in Ruhija sector of Bwindi impenetrable national park. All the rooms are luxurious and have comfortable beds.  It provides indoor and outdoor activities, not forgetting a great restaurant and a bar. The lodge also has a gift shop for its visitors. It is a good base for gorilla trekking adventures in Ruhija region. The lodge lies about 10 hours from Kampala the capital of Uganda.
Gorilla Forest Camp
Description
Gorilla Forest Camp lies on a steep hillside within Bwindi Impenetrable Forest National Park. It is inside this thick rain forest just next to the park entry and just a stone's throw to gorilla trekking briefing point. The camp has a bar and dinning cottage overlooking the rain forest and the bar operates 24/7. It also provides camp fire at night. Imagine gathering around a fire under the stars as you share you retreat from your gorilla trekking activities .
Their restaurant favors both local and international guests. The tents are tremendously large with wooden decks for visitors who may want to privacy. The lodge is about 10 hours drive away from the capital. You can also access by a 45 minute flight in order to save time.
Activities possible at the lodge include the following,
Gorilla trekking
Primate watching,
Enjoy the waterfalls and the beautiful scenery around the forest.
Visit the Batwa people
In conclusion, if you are looking for a budget or midrange or luxury lodge  gorilla safari, contact us for a free quote.