Due to the many things to do on Uganda safaris, the country remains at the fore front when it comes to adventure holidays. Sir Winston Churchill called it "The Pearl of Africa". Uganda is Africa squeezed in one country. Her many incredible attractions make it the best country to go on a holiday. Whether you love wildlife, adventure relaxing or trekking, this country has it all.
Above all, there are many things to do on safaris in Uganda of which the following need description.
Gorilla trekking
Whenever one considers to do go on a gorilla trekking adventure, they think of Uganda. Uganda is the only with more than one park to see mountain gorillas. You can trek them in either Bwindi Impenetrable forest which hosts more than half of their population or in Mgahinga Gorilla park  in the Virunga Volcanoes.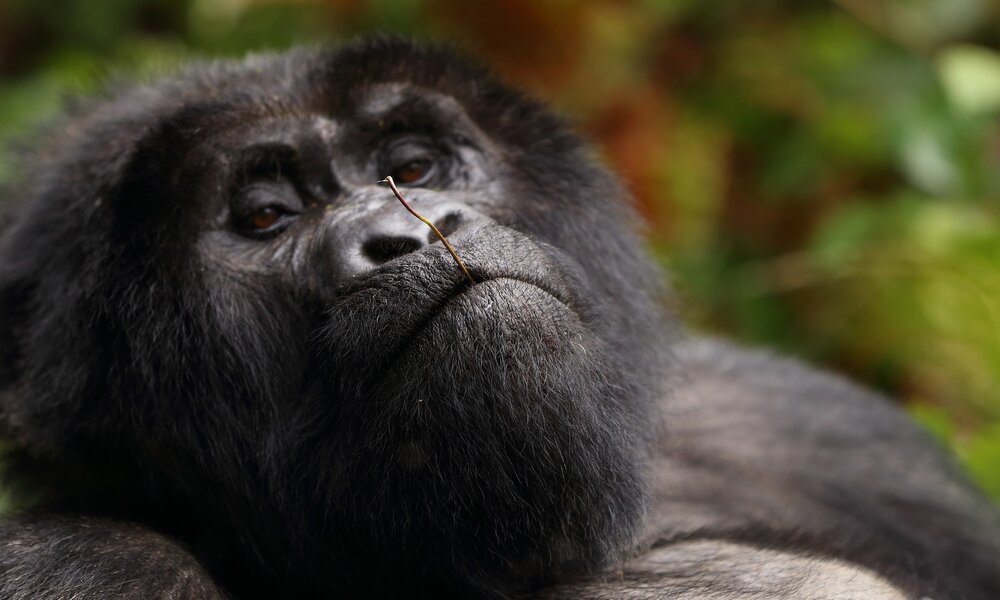 It is a fact that Uganda hosts the most mountain gorillas in the world. Other countries to host these rare primates are Democratic Republic of Congo and Rwanda. In Congo they live in Virunga National Park whereas in Rwanda they live in Volcanoes National Park. The above are the only three countries that host the mountain gorillas with Uganda having more than half of their population.
A Uganda gorilla permit costs $700 per person and this gives a visitor one hour in their presence, take as many photos and videos with them.
White Water rafting
For those safari seekers that love adrenaline, white water rafting on the River Nile is for you. What is a better place to raft than on the world's longest river? Jinja is where all this adventure happens and is just 3 hours drive away from the capital. Here you get wet and wild as you raft the Grade 4 and 5 rapids. Plus, you don't need any experience. White water rafting starts at USD 125 per person depending on how many hours you want.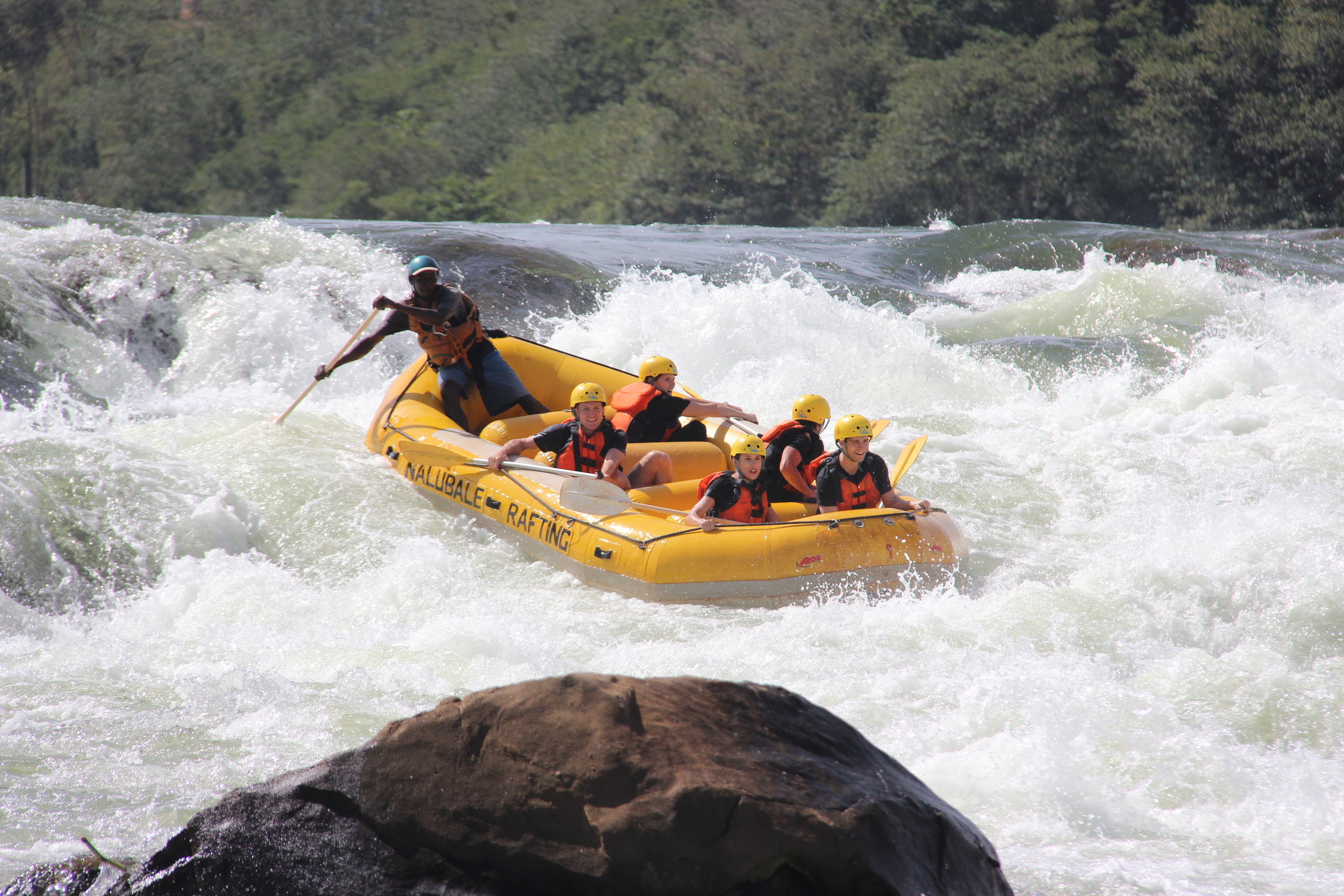 Game Drives
Much as Uganda is famous for gorilla safaris, it is also blessed with a number of savannah parks and reserves. This makes game drives a must do activity while in the country. The country is strategically located between the Rainforest of Congo and the savanna of Kenya and Tanzania. It therefore boasts both forest and savanna animal species. Some of the best savanna park in the country include; Murchison Falls, Queen Elizabeth, Kidepo Valley and Lake Mburo National Parks. With Big 5s present in the country, game drives are very rewarding. We strongly advise you to use 4wd safari vehicles since some roads in the parks are not that good. While on game drives, expect to see elephants, lions, leopards, buffaloes, giraffes, warthogs, antelopes many bird species and so on.
Zip lining
This is one of the new exciting adventures possible in Mabira Forest, Kapeeka Adventure Park and Lake Bunyonyi.
With the one in Mabira Forest being the most exciting one, its not for the faint hearted. You zip line on some of the highest trees in the largest natural forest in East Africa. The activity starts at the Griffins Falls Camp and if you are looking for that adrenaline feel, this is something for you.
Mountain Trekking
Uganda offers some the most unique mountain trekking options. You can summit the Rwenzori mountain in just 7 days. This is the only place where it snows at the Equator. It is said that its melting glaciers are some of the sources of the Nile River.  The highest peak is Margherita at 5018m above sea level.  You can as well hike mountain Elgon to see the world's largest caldera.  There are a couple of other mountains which can be hiked in just a few days. These include; mount Gahinga, Sabinyo, Muhabura, Moroto, Kadama and so on. There fore, if you are looking for things to do in Uganda, mountain trekking is key.
Cultural experiences
Uganda is a very culturally diverse country. Its people also rank as some of the most hospitable in the world. Its for this reason that many people keep returning to Uganda after their first visit. While other factors attract tourists for their first visit, its mostly the people that make them return.
Uganda is made up of over 56 tribes. Each has its own culture and norms. The most significant tribes are; Baganda, Bakiga, Basoga,Banyankore, Banyarawanda, Bagisu, Bachori, Batwa, Karimajong and so on. A cultural tour/visit to some of these tribes might change you forever. You will learn about their food, way of living, dos and don'ts and so on. Cultural visits are indeed some of the top things to do on Uganda Safaris.
Chimpanzee trekking
Chimpanzee trekking is one of the must do things on safari in Uganda. The country provides numerous opportunities to meet man's cousins. It has the more places to trek chimpanzees than any country. The country's Kibale Forest National Park is home to the most primate species on earth. In fact it is the best place to see chimpanzees in the wild. As a matter of fact, its known as the primate capital of the world. Other places to trek chimpanzees are; Kalinzu Forest, Kyambura Gorge, Budongo Forest, Bugoma Forest, Semuliki Forest and so on. On a normal chimpanzee trek, tourists walk for 1 to 5 hours. Chimpanzees are very active and there fore move from place to place. On meeting them, they are allowed a full hour to enjoy and photograph them as well as learn about their behavior.
Visit the hot springs
Uganda has a number of hot springs that make up its natural beauty. Significant ones are the Sempaya hot springs which are in Semuliki National Park. in Bundibugyo district. These hot springs are hot enough to boil eggs and plantain. These might be the most spectacular hot springs on the African continent.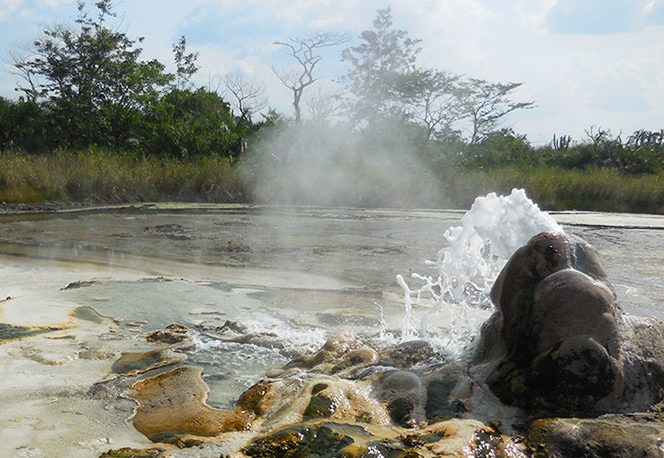 Due to the Geo chemical activities that happened in the earth's crust many years ago,  Uganda has many hot springs. Other notable hot springs include the Kitagata hot springs in Ishaka and Kanangorok hot springs in Kidepo Valley National Park. For those interested in sight seeing, watching hot springs is one of the things to do on Uganda safaris.
In conclusion, there above are the top things to do in Uganda.