Primate Species in Uganda
Uganda is commonly referred to as the "Pearl of Africa". It is one of the primate mostly concentrated destinations in the world. More to that, the country doubles in primates with apes and monkeys of which some are endemic and endangered. Almost in all protected area (National Parks and Forest reserve/ game reserves) in Uganda there are chances of sighting a couple of primate species.
Certain primate species in Uganda have a reasoning capacity so close to that of humans. No wonder research shows that they share over 98% of our DNA. Uganda is home to twenty (20) primate species. In fact, 13 of these are present in Kibale Forest National Park which is also dubbed the "Primate Capital of The World". Below we discuss the all primate species which one can encounter on a safari to Uganda.
Mountain Gorillas
Gorillas are under apes (larger primates without tails). The mountain gorillas fall under a sub-category of eastern gorilla (gorilla beringei) which splinted to form the eastern lowland gorillas and mountain gorillas. All these live in the Virunga mountains and Bwindi Forest. Mountain gorillas are the largest of all primates. They are also popular for emulating a lot of human behavior. To add to that, they are the only primates that can not survive in captivity. This simply means that you can never see mountain gorillas in zoos. They survive in their natural space.
Uganda is home to more than half of the world's mountain gorillas. You can actually see them in two national parks. These are; Bwindi Impenetrable National Park and Mgahinga National Park.
Gorilla Trekking is the leading tourism activity in Uganda and Rwanda. To do this, you have to secure your gorilla permit in advance due to limited availability. Therefore, Uganda has a reputation of providing the best gorilla trekking adventure experience with about 19 habituated gorilla families.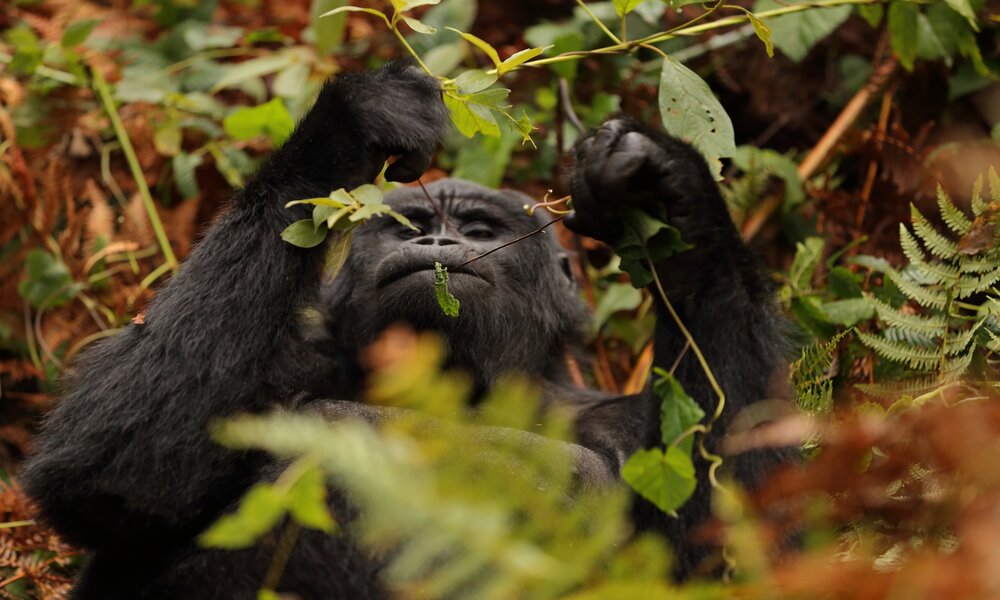 Chimpanzees
The second large primates after the mountain gorillas. To tell the truth, chimpanzees are the most intelligent of all primates. No wonder, they share more than 97.8 of human DNA. This can be seen in their behaviors. These include;
kissing and hugging
Ability to use tools such and hand hoes, mirrors
They have emotions and some times show them
ability to walk on two legs and so on
Their communication skills
Uganda is home to over 5000 chimpanzees which live in the tropical forests and zoos. The best place to watch chimpanzees in the wilderness is Kibale National Park which. With a total of 13 primate species, this forest is "The Primate Capital of the World".
Other places to see chimpanzees are listed below.
Budongo forest reserve
Kyambura gorge in Queen Elizabeth National Park
Semuliki National Reserve
Ngamba Island chimpanzee sanctuary and so on.
Golden Monkeys
The golden monkeys are a very rare primate specie world wide. They are endemic to Albertine rift valley regions of the Virunga Conservation Area. It's only in rolling bamboos of Mgahinga Gorilla Park where golden monkeys and mountain gorillas co-exist. The two primate species make the Mgahinga Gorilla National Park a must visit. Hence the saying, 'Silver meets Gold' on an expedition to Mgahinga Gorilla Park.
A group of golden monkeys is a troop. To enable golden monkey trekking, researchers do their best to habituate them to enable human visits. Other than gorillas, the park also has two golden monkey families available for trekking. Either way, trackers can involve in the shorter tracking experience or the longer hours experiential tracking adventure.
Olive Baboons
This is the 3rd largest primate after gorillas and chimpanzees. These primates are pretty common in the country even in the not so touristic areas.  Olive baboon lives all over Uganda of which the following areas are important to mention. You can view them in all National parks, Busitema Forest, Mabira Forest and so on. Olive Baboons are so many to the extent that you do not need a special permit to see them if you are in the National park or transiting on some highways. They can get really aggressive, so watch out about getting so close to them.
Mangebay
The black and greyish monkeys with a shaggy appearance always inhabit in the low altitude rainforests. Uganda has two types of mangabey including grey cheeked Mangabey (Lalbigena) and Ugandan Mangebay, The Ugandan Mangebay species (lophocebus Ugandae) one of the world old specie endemic in Uganda only.
Mangebay in Uganda can be encountered in the forest of Kibale national park, Semuliki national park and Mabira forest. Uganda Mangebay are being habituated for tracking and one the attractive activity to do at Mabira forest Uganda's known biggest forest reserve.
colobus monkeys
Colobus monkeys are categorised into two namely;
the black and white colobus monkey.
The black and white colobus monkeys is one primate species with no thumbs and this makes them vulnerable to accidents especially during high jumping. The babies are born white and change within a period of three months. These monkey species commonly feed on young leaves on the edges of forests. The species is one of the most common primates in Uganda.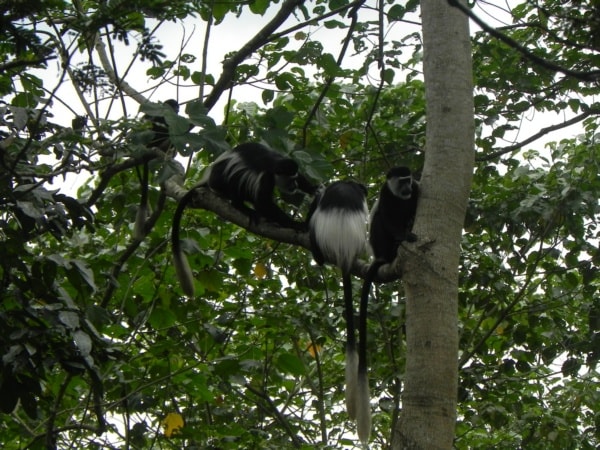 The red tailed monkeys
They have a red tail and red hairy with black face. The name comes from its red tail. Males tend to fight tirelessly to defend their families against any intruders.
L'Hoest Monkey
L'Hoest Monkeys mainly live in the mountains of  the Albertine rift valley. They are all occasionally appear in Kibale Forest National Park. They live in groups. L'Hoest Monkeys are very shy species. It is important to know that they were listed on the IUCN of Vulnerable species.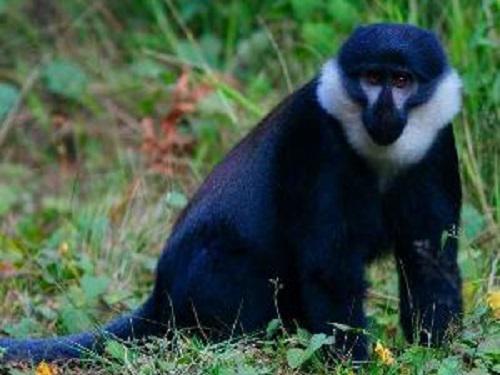 Patas monkey
Whether you call it a wadi monkey or husser monkey, it doesn't matter.   This Uganda Primate Specie lives in the semi-arid places of West and East Africa. The specie lives in troops of about 30 individuals. They mostly live in the savannah parks of Uganda in Murchison Falls, Kidepo valley national parks, pian Upe Game Reserve.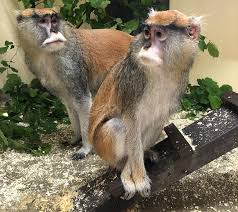 Pottos monkeys /Nocturnal Pottos
You can also call it either the tree or bush bear. they are nocturnal tree dwellers which are softly slowly moving African tropical primate. This  primate specie is so sensitive to potential predators and when comes across one of them they stuck their heads in their hands. You can see the nocturnal portal in Bwindi, Queen Elizabeth and Kibale Forest National Parks.
The blue monkeys
They are also referred to as the cercopithecus mitis belong to the ancestry world old monkey in the east and western section of Africa. In fact they are some of the most impressing African monkeys to watch when on a Uganda adventure.
By the way, blue monkeys are not all that blue as the name states. Their faces have blue like hair but are grey or olive hairy. The males can weigh to about 8kg and females are lighter to about 4kg. In Uganda, you can mostly encounter them in Kibale Forest National Park.