Flying Safaris in Uganda
Flying Safaris in Uganda are a unique way to explore the pearl of Africa. This works very well for travelers on a small time frame. They are ideal for old travelers, business travelers and anyone who wants to visit multiple destinations in a short time. We book you a scheduled flight or charter light aircraft to your destination. This way you get to see this beautiful destination by both air and road. These light aircrafts fly to a couple of destinations and come at a cost. The cost becomes even higher if we have to charter. Either way, we let you know of the possibilities on time. They connect towns and national parks as below.
Flying Safaris to Murchison Falls.
These flights normally start at either Entebbe Airport or Kajjansi Airstrip and then to Uganda's largest conservation area, Murchison Falls. Flights land at either Bugungu Airstrip in the north or Pakuba Airstrip in the west. Arrival Airstrip depends on the location of your accommodation. Bugungu airstrip is ideal for  travelers staying or the Southern Bank of the Nile whereas Pakuba is ideal for ones staying in the north.
Safaris to Kidepo Valley National Park
Kidepo Valley is Uganda's remotest park. It has been Africa's best 3rd National park for now 3 consecutive years. The culture of the locals(Karimajong and Ik People), the picturesque landscape, the endemic bird and animal species plus the privacy of not being around so many tourists are the factors driving tourists to this park. The park is about 12 hours drive away from the capital. Travelers tend to fly to this unique park so as to minimise driving time. There are daily flights at both Kajjansi Airstrip and Entebbe Airport. They both fly to Kidepo Airstrip.
Flying Safaris to Bwindi Impenetrable Forest
These are the most common flying safaris. Bwindi forest is home to more than half of the world's remaining mountain gorillas. Individuals who want to see them but have less time tend to fly. The forest has 4 sectors for gorilla trekking and these are; Ruhija, Nkuringo, Rushaga and Buhoma. The final destination for the flight you book should depend on where your accommodation and gorilla permit were booked. If trekking in Ruhija or Buhoma, Kihihi Airstrip is ideal whereas  Kisoro Airstrip is best for ones trekking in Nkuringo or Rushaga or even Mgahinga Gorilla park.
 Safaris to Queen Elizabeth National Park
Queen Elizabeth is among Uganda's most famous park having been named after Queen Elizabeth of England. The park has savanna, rain forests, swamps, lakes and rivers hence harbors a variety of wildlife species. It is for this reason that it is called a "Medley of Wonders". Light Aircrafs normally land at Kasese Airstrip. This town is just a stone's throw to Queen Elizabeth National park and about 90 minutes drive to Kibale Forest National park. There are both morning and afternoon flights to Kasese airstrip.
As of today, Aero link, Eagle Air and Fly Uganda operate domestic flights around the country. They fly to more destinations but not everywhere in the country. So, you might have to charter them to areas where they don't have scheduled flights.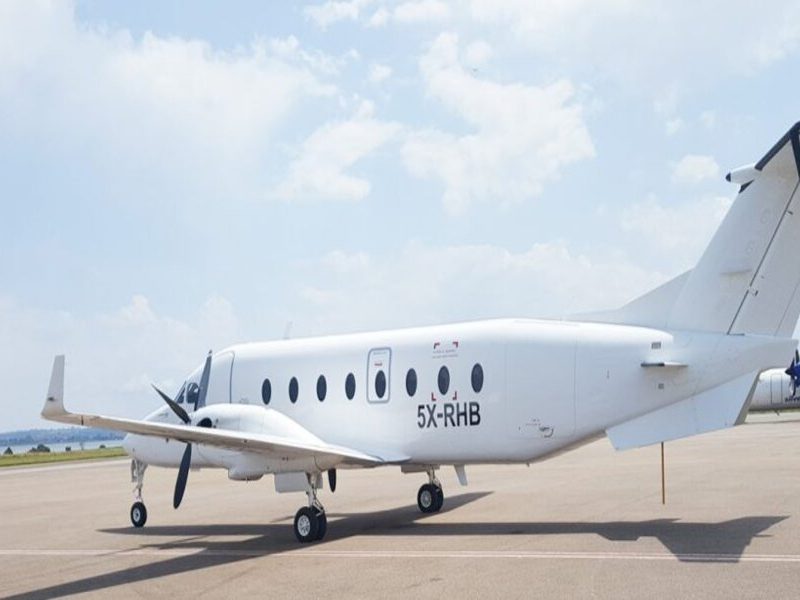 This 7 Days' Flying gorilla trekking Uganda Safari highlights chimpanzees, mountain gorillas and big […]